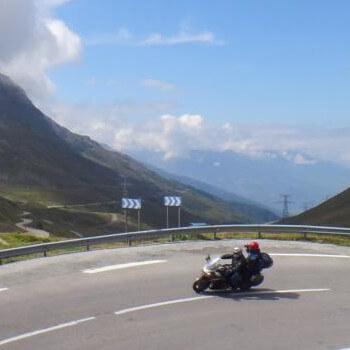 Five Countries Tour
Just a quick note to say how much we enjoyed the Ozalps tour.  
The different cultural experiences were also great, with Italy being especially good after getting used to the traffic and the pro-bike vibe that runs through the country.  Berwang road was a particular favourite and the angels roll down from Sustenpass (I think) with Helen yahooing on the back was exhilarating too!
We have been ploughing through a few thousand photos since we got back and there are some beauties! Enjoyed the ones you took of us being hassled at Livigno border - maybe it was the rabbit ears. 
I have almost recovered from shredding my right hamstring, about 6 days after Stelvio. Physio, acupuncture, stretches and strengthening exercises all help and in a funny way every step is a reminder of what a terrific trip we had.
We had a great trip and I would recommend it to any rider who enjoys the odd corner and climb!!!