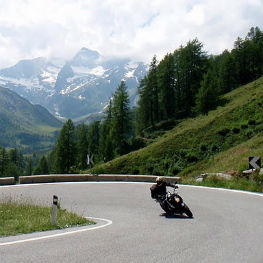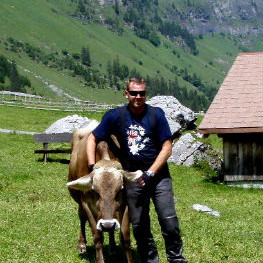 About Ozalps
Ozalps tours officially started in 2003, created from a love of Europe and the incredible riding opportunities available there.
Cliff Popp would regularly travel there to ride through various Alpine regions that were reknowned for being motorcycling paradise. Regular rides through Austria, Switzerland, France, and Spain resulted in attention on the best of the rides - the Alps. In 2001, two of his riding buddies from Australia were in Europe for other reasons and tagged along on one of his forays. At the completion of that two week ride, both were astounded by the knowledge and experience Cliff had acquired. They persistently hassled him to create a business that would share these tours with a wider audience. Another season was spent researching a great package that would give Aussies the same experience. Ozalps was born.
The Ozalps tours have continuously evolved since that time, where more and more of the very best roads have been linked with great accommodation, tourist opportunities and an intimate small group experience. The people who participate in these tours give great praise to the finished product of this ongoing process. See testimonials for examples.
Meet The Team
Cliff is a Guide for Ozalps because simply ... he loves it. He has a passion for riding which shows in every Tour. Cliff has 20 years of touring throughout the best bits of Australia - Tassie, and all over the great dividing range - top to bottom. Cliff looped Europe independently for 4 summer seasons - taking in the south to Spain and Portugal. He inevitably narrowed his focus on the real riding part - the Alps. Cliff's family live between Munich and the base of the Alps, and his local knowledge of the Ozalps tour routes is extensive. He is a NSW Motorcycle Riding Instructor (Class 5 license), a Registered Nurse (+ holds St Johns First Aid Senior level) and when in Australia calls Byron Bay home.
Brad's a newcomer to the Ozalps team, but not to adventure riding. He has a K1300S to make the most of his home state of WA and a posty to put down hot laps of his beloved Coco's Island (!)- and now a KTM990SMT to lead Ozalps tours. After doing an Ozalps Tour as a rider some years ago, he discovered he can't get enough of the European experience. After extensive bike travels on his own through mainland Europe- west and east Alps and Dolomites, as well as the British Isles, he's decided that sharing is rewarding, and is a welcome new guide for us. He has German roots, and great knowledge of the varied European cultures & etiquette, and most importantly, loves to ride those wonderful roads.
Enthusiasm, enthusiasm, enthusiasm! Dave loves to ride, and doesn't it show! Self-contained corner junkie, he likes nothing better than squirting his Speed Triple around the back roads of his home - other than leading Ozalps tours through the Alps, that is!